PISO-CAN100U-D
1-Port Isolated Protection Universal PCI CAN Communication Board with 9-pin D-sub connector, supports operating temperatures from 0 ~ 60 ℃
Features
The CAN (Controller Area Network) is a serial communication protocol, and efficiently supports distributed real-time control with a very high level of security. It is an especially suit for networking "intelligent" devices as well as sensors and actuators within a system or sub-system. In CAN networks, there is no addressing of subscribers or stations in the conventional sense, but instead prioritized messages are transmitted. As standalone CAN controller, PISO-CAN100U-D/T can represent an economic solution of an active CAN board. It has one CAN bus communication port with 5-pin screw terminal connector or 9-pin D-sub connector, and has the ability to cover a wide range of CAN applications. Besides, PISO-CAN100U-D/T uses the new CAN controller Phillips SJA1000T and transceiver 82C250/251, which provide bus arbitration, error detection with auto correction and re-transmission function. It can be installed in a 5V PCI slot and supported truly "Plug & play".
Applications
 CAN bus communication application.
DeviceNet, CANopen, CAN J1939, SDS(System Wide Network) protocol application. 
Control System
Building Automation
Factory Automation
Distributed data acquisition

One CAN bus communication port
Compatible with CAN specification 2.0 parts A and B
On-board optical isolation protection
Programmable transfer rate up to 1 Mbps
2500 Vrms photo couple isolation on the CAN bus
Jumper select 120Ω terminator resistor for each port
Direct memory mapping to the CAN controllers
33MHz 32bit 5V PCI bus (V2.1) plug and play
Universal PCI card, supports both 5V and 3.3V PCI bus
Note: We have verified to drive 100 CAN nodes at the same time via one CAN port of PISO-CAN100U.
Hardware Architecture
Software Architecture
Utility
Can be a CAN system monitor tool with CAN cards
It is a good tool to test CAN system
Send/Receive/Record CAN messages
Provide cyclic transmission function
Record the CAN messages with filtered ID and time stamp
Support: 2000/XP/7
LabVIEW Tool
In order to apply the PISO-CAN100U to CAN network with NI LabVIEW, we provides a LabVIEW 7/7.1 toolkit for the purpose. It is a useful tool to develop the CAN-relative application in NI LabVIEW environment by using PISO-CAN100U. It is easy to use and can help user to rapidly reduce their program development cycle. If users want to develop a LabVIEW industrial application with CAN network, the LabVIEW CAN driver is very helpful.
CAN LabVIEW Tool Features:
Support extension arbitration id
Support debug receive mode
Start byte of output
Support LabVIEW 7/7.1
Scaling range to select
Two languages, German and English
Selectable data rates (baud): 10K, 20K, 50K, 125K, 250K, 500K, 800K, 1M, and user defined
Virtual CAN
There are various communication interfaces among the CAN devices like PCI CAN board, Ethernet series and RS-232 series CAN module. According to different purpose of users' projects, the users maybe need to choice different CAN products. Because of this situation, the programmer should develop different communication program to handle different CAN device. For example, the user should develop "Socket Client" to communicate with I-7540. When using I-7530, the users need "UART" technique to communicate with it. Nowadays, ICP DAS develop the Virtual CAN technique. The Virtual CAN driver is the excellent tool for users. It transforms whole CAN devices into Virtual CAN port. And then it generates Virtual CAN port like "VxCAN 1" or "VxCAN 2". The users could send and receive CAN message by appointing the Virtual CAN port number. The users don't need to care about what kind of CAN device which is used.
Indusoft Driver
InduSoft Web Studio is a powerful, integrated collection of automation tools that includes all the building blocks needed to develop modern Human Machine Interfaces (HMI), Supervisory Control and Data Acquisition (SCADA) systems, and embedded instrumentation and control application.
In order to apply the field bus communication by InduSoft software, ICP DAS provides several field bus components such as CAN, CANopen, DeviceNet and so on, in the InduSoft driver. By means of these drivers, you don't need to have the complex and abstruse background of these field bus protocols. Only few simple steps can finish the communication between your PC and the remote devices.
PC Platform

File Select

WinXP / Win7
InduSoft CAN Driver (IDCAN) for PC/XPAC-8000 (The InduSoft driver list )

Supported Devices

CAN bus series
I-7530, I-7530A, I-7540D, I-7565, I-7565-H1, I-7565-H2, PISO-CAN100U, PISO-CAN200U,PISO-CAN400U, PISO-CAN800U, PEX-CAN200i, PISO-CM100U
CANopen series
PISO-CPM100U, I-7565-CPM
DeviceNet series
PISO-DNM100U, I-7565-DNM
CANopen Tools
In order to apply the CANopen protocol on the PISO-CAN100U easily, we provides two CANopen application Tools, which are CANopen library and CANopen diagnosis application tool. If users want to develop an industrial application with CANopen protocol, the CANopen library is very helpful to be applied with the PISO-CAN100U as the CANopen devices with the features of CANopen protocol. Besides, if the monitor and diagnosis of CANopen message on the CAN network is considered, the CANopen diagnostic application tool can be used to achieve this purpose.

CANopen Application Tool Features:
Follow DS301 version 4.02
Auto detecting CANopen slave devices
IO monitor
Dynamic PDO
NMT master
Support the Guarding and Heart beat protocol and SYNC message
Selectable data rates (baud): 10K, 20K, 50K, 125K, 250K, 500K, 800K, 1M
DeviceNet Tools
DeviceNet is a low level network that provides connections between simple industrial devices (sensors, actuators) and higher level devices (controllers). It allows direct peer to peer data exchange between nodes in an organized and, if necessary, deterministic manner. We provides DeviceNet library for users to develop the specific DeviceNet application by PISO-CAN100U. In addition, we also provide the DeviceNet diagnosis application tool to monitor and diagnose the DeviceNet message through CAN network. It provides the DeviceNet communication protocol interface to control and analysis the DeviceNet slaves. 

DevcieNet Application Tool Features
Auto detecting DeviceNet slave devices
IO monitor
Message monitor & diagnosis
Support UCMM capable devices
Support the Predefined Master/Slave connection set
Selectable data rates (baud): 125K, 250K, 500K
DeviceNet for LabVIEW Application Tool
In order to implement DeviceNet communication by NI LabVIEW software, ICPDAS provides a set of DeviceNet component for LabVIEW- "ICPDAS-DNET". We also have the configuration utility to configure the ICPDAS's DeviceNet hardware in your PC. The users not only operate easily and develop application rapidly, but also reduce the complexity of applications. The users can communicate with the remote DeviceNet devices in a few simple steps and need not to know about the detail of the DeviceNet protocol. It is a very useful tool to develop the DeviceNet application in NI LabVIEW environment by using ICPDAS-DNET. After finishing install the tool, we offer many basic and advance demo programs for users to reduce the development time. If you are new engineer to develop DeviceNet application, you can refer to the demo programs first. It is the best tool to develop various distributed systems and other industrial application software on DeviceNet network.
DevcieNet for LabVIEW software Features
Auto detecting DeviceNet slave devices

DeviceNet I/O monitor

Programmable MAC ID Setting

Provide hardware configuration tool

Support UCMM capable devices

Selectable data rates (baud): 125K, 250K, 500K

Support the Predefined Master/Slave connection set
NI LabVIEW software Support
NI LabVIEW Software V7.0 or newer
NI-DNET DeviceNet driver V1.5 or newer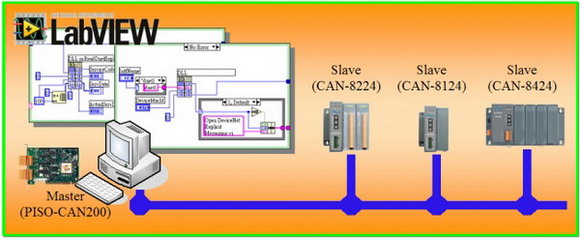 Linux Distributions
Linux kernel version of distributions

Linux kernel Distribution

2.6.37

Debian GUN/Linux

4.0

Fedora Core

2/3/4/5/6/7/8

Mandrake(Mandriva)

10.0/10.1/10.2

Red Hat Enterprise

4/5

Ubuntu

7.04

SUSE

9.1/9.2/9.3/10.0
Note:We suggest user to use SocketCAN Driver (IxCAN) for Linux kernel Distribution v2.6.25 or later.
Performance Test
Platform: 
  OS:Windows XP SP 3
  CPU:Intel(R) Core(TM) i3 CPU 550 @ 3.20GHz
  RAM:1.8GB
The 1 CAN port send, receive or send/receive 100,000 CAN messages at the same time. The average FPS values are shown below:
Baud rate (bps)

1-CAN Port

2.0A, 8 bytes data
2.0B, 8 bytes data
TX (FPS)
RX (FPS)
TX/RX (Times/Sec)
TX (FPS)
RX (FPS)
TX/RX (Times/Sec)
10K
88
88
43
73
73
37
20K
176
176
87
146
146
75
50K
440
441
218
365
367
188
125K
1088
1104
537
899
917
461
250K
2100
2208
1025
1745
1834
882
500K
3975
4414
1856
3305
3668
1612
800K
5930
7008
2787
4950
5830
2355
1M
7129
8722
3216
5926
7257
2820
Reference & Support
Specifications
Model Name

PISO-CAN100U-D

PISO-CAN100U-T

Bus Interface

Type

Universal PCI, 3.3 V and 5 V, 33 MHz, 32-bit, plug and play

CAN Interface

Controller

NXP SJA1000T with 16 MHz clock

Transceiver

NXP 82C250

Channel number

1

Connector

9-pin male D-Sub

5-pin screwed terminal block

Baud Rate (bps)

10 k, 20 k, 50 k, 125 k, 250 k, 500 k, 800 k, 1 M (allow user-defined baud rate)

Isolation

3000 VDC for DC-to-DC, 2500 Vrms for photo-couple

Terminator Resistor

Jumper for 120 Ω terminator resistor

Power

Power Consumption

225 mA @ 5 V

Software

Driver

Windows 2K/XP/7, Linux 2.6.x ~ 3.2.20, LabView, DASYLab, InduSoft

Library

VB 6.0, VC++ 6.0, BCB 6.0, Delphi 4.0, C#.Net, VB.Net

Mechanism

Dimensions

126mm x 22mm x 85mm (W x L x H)

Environment

Operating Temp.

0 ~ 60 ℃

Storage Temp.

-20 ~ 70 ℃

Humidity

5 ~ 85% RH, non-condensing
Related Products
---